Cape Cod Additions
Building an addition on to your existing house. Planning, cost and design considerations.
Constructing an addition onto your Cape Cod house is a smart investment. Building an addition on your home is a great way to meet ever-changing lifestyle needs and enhance your living space without moving into another house. Building an addition increases and heightens the usability of kitchens, great rooms, bedrooms, bathrooms and dining areas. By building an addition onto your home, you can make it more livable while increasing its overall value.
Additional Space
Adding an addition to your home can be an easy and inexpensive way to increase your living space and heighten your quality of living. You will be astounded at how much easier living can be with a bit of extra space added to your home. The thought is to gain space by constructing in any direction from the existing home structure in order to make more living space and enhance the caliber of life inside your home.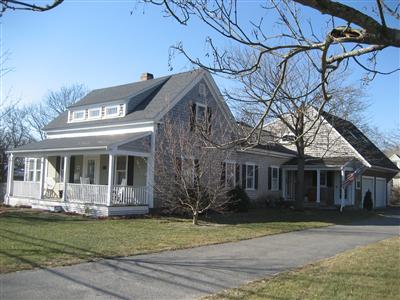 The 1830 Cape Cod style house pictured right has had many additions added on to it. There is a farmers porch and a shed dormer with awning windows on the front of the house.
An addition off of the back of the original Cape Cod house leads to a garage addition that appears to have a reverse salt-box style roof and with an overhang in front of the garage doors.
Cost to Build
Cost estimates for additions are almost impossible to determine without looking at your specific project. Taking all aspects into consideration will ensure the most cost-efficient design.
Additions may cost anywhere from $75 to $150+ per square foot. It's not extraordinary for a room addition to cost more per square foot than building a brand new house. The type of construction you are planning will determine the kind of material and the cost of the material.
About forty percent of the entire cost of construction will comprise of labor. An experienced architect will be able to determine a fairly precise cost of the structure just by looking at a sketch of the plan even before designing the complete structure and obtaining a blueprint.
On most building projects, the combined fee from the general contractor and the architect represents around ten percent of the total cost of the construction. Prior to considering building an addition on to your home, make certain that you allow for the inevitable hidden costs associated with a new home addition.
Other cost considerations
Increased utility bills, taxes: An addition brings increased costs. More space means higher heating and cooling costs, more windows to wash and gutters to clean, increased property taxes, and more house to clean. Make certain to consider the increase in utility and heating bills beyond what the actual addition will cost you. Look at passive solar designs that capitalize on solar heat gain in wintertime and shading to help with cooling during the hotter Summer months.
Emotional cost: It's a thrill initially, those workers energetically excavating and sawing to give you more house, but over time building an addition can be quite stressful. Especially for people that are living in the house while the construction is going on. If you have another place to stay while the addition is being built or can afford to rent another place, you will eliminate much of this stress. Also the project will seem to move along much more quickly if you are not staring at it everyday.

Addition Design
It is important to keep the original design of your home in mind once you seek to add an addition. Meet with an architect or hire a contractor that can also design your addition. They may have stock addition plans for you to work off of.
When all the finances are in place, attention should be given to the size and scale of the project, including the design and aesthetics of the new home addition. Your new house addition should be of similar size, scale and looks so that it transitions nicely into the original structure of the house.
You may need an engineer to determine the load supporting capacity of the existing structure. It may need some additional structural framing and reinforcement depending on the size, scale and type of addition that will be added to the existing structure.
It is generally more affordable to build an addition than to buy a new home that equals the space of your existing house plus addition. Prior to breaking ground on your home addition project, it's a good idea to decide what you are anticipating in terms of extra living space.
Whether you are transforming an existing room, building an addition, or remodeling your entire home, the first and perhaps most critical step to any successful remodeling project is to make sure that you select the right builder or remodeling contractor.
Get a free estimate on your Cape Cod home improvement or home maintenance project
Recent Posts
Build an addition on to your existing home, ground level or second story additions
Need to add additional living space to your Cape Cod home? Please fill out the form below to contact our licensed professional local Cape Cod home builder for a quote on your addition or remodeling project. (Cape Cod, MA area only please)
READ MORE...
---
Adding on to a Cape Half House
The traditional Half Cape House will have a door and two windows on it's front. If it is an original Half Cape both windows will be on the same side to the right or left of the door and the chimney will line up with the center of the door on the front. This was done so that if the house was to be added onto in the future and made into a three-quarter Cape or a full Cape Cod house the chimney would end up in the center of the house, making it easier to heat in colonial times.
READ MORE...
---